So, you have finally found the perfect cruelty-free dress and are beginning the search for those wonderfully-you accessories to really finish off your look. With current bridal trends emphasizes feathers, pearls, and even fur stoles, it can be hard to sift through the options and find pieces that are consistent with your philosophies to make sure you keep your vegan-bride-karma in check! I'm certainly no expert, but having gone through my own accessory journey recently, I thought I could share some insight about some of the things that I've learned. Click on any of the images to get to the webpage where you can buy it.
Hair Pieces
From floral crowns, fascinators, embellished veils and cocktail hats, brides have a plethora of hair accessories to choose from to compliment their beaming faces on the big day. Because so many of these pieces, especially the higher quality ones, will be made with feathers, silk, or pearls, it becomes very important to ask questions when purchasing your piece. Veganism aside, I would argue that some of these materials aren't even vegetarian (if your understanding of vegetarianism is the avoidance of anything that came as a byproduct of an animal death). For example, most of the feathers that are used to make hair accessories are a by-product of the poultry industry. Many Ostrich and Peacock feathers are collected from animals in captivity.
Most veils are make from tulle, a material that can be made from silk, nylon, or rayon. If the material is not listed, based on the price of the veil you can get a good idea of whether or not it's made from silk. David's Bridal sells a variety of veils using non-silk tulle, and I would highly recommend browsing their selection either online or in-store!
Etsy is another great place to find hair accessories, many of which are (or can be) vegan. Message sellers to ask what materials they use, or if they can do custom work. My experiences with (most) vendors on Etsy is that they are eager to do custom work and answer any questions you might have, so I highly encourage the dialogue. One thing I would not recommend doing is simply typing "vegan hair accessories" into the search engine; this yields very few results. It may take more time to look through items one by one, but a lot of vendors won't use the word "vegan" if one of their pieces is cruelty-free, it's up to you to use your own savvy to assess the materials that they're using. Here is an absolutely gorgeous piece by seller Whichgoose: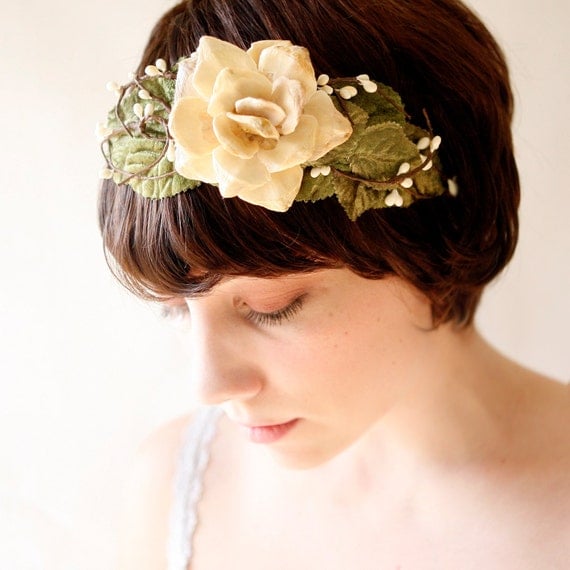 Modcloth is another great place to find hair accessories. In recent months they have really been emphasizing their capability in outfitting a bride, and lucky for us, a lot of the embellished headbands are made from polyester!
A final word on hair accessories, and something I did for our engagement shoot, was to make my own floral crown. If you really like floral crowns but can't seem to find one you love that doesn't use silk flowers, there are a ton of DIY guides to be found and you can choose your own materials. Mine turned out great and I also saved a ton of money!
Outerwear/Coverage
Every time I see pictures of a fall or winter wedding and the beautiful bride is wrapped in a fur stole I can't help but cringe. Sure there are faux-fur options, but the issue with going faux is that you're encouraging the trend by suggesting that you think it's a stylish look. It can also appear to others that you're validating the use of fur in clothing because you're mimicking the look. Instead, as the veganista that you are, opt for outerwear that is a true reflection of your own values.
A great option that is perfectly on trend right now (read: widely available in a variety of price ranges) is the lace jacket. This gorgeous jacket is from David's Bridal and can be ordered online or found in-store!
If you're looking for something warmer, Vaute Couture has some amazing coats that are so super eco-friendly, and available in white/ivory.
Shoes
Finding vegan shoes was probably the easiest search that I had to do. There are so many great vegan shoe websites (from Mooshoes, to AlternativeApparel), and a lot of companies who have vegan options, like Toms.
Modcloth is an amazing place to find vegan shoes, and will always list the materials used; whether it's "vegan faux leather", or indicating that the shoes is made with all man made materials. Here are a couple of pairs that I found.
Ruche is another great site to find vegan shoes, and where I ended up finding the perfect pair for me! They no longer sell mine, but here are another pair that is super gorgeous:
So there you have it, a little bit of vegan-bride wisdom to potentially help you find some resources to complete your look – happy searching, try to stay true to yourself, and if you get frustrated because you absolutely cannot find a vegan veil that you love, remember that you're marrying your best friend and that's what really matters.
Did you enjoy this article?
Get free updates!
We'll only send emails with important updates or special news. Sign up today so that you don't miss a single thing! xo